Over the past few months we have been working feverishly to develop our new website, a state-of-the-art technology platform for JimRea.com. When I moved from Keller Williams to Sotheby's International Realty, my website lost its property search features that had been provided by Keller Williams. Thus the opportunity arose to build a new website with the most innovative, creative and powerful internet property search capabilities available.
Neighborhood Property Search
The most innovative feature in our new website is our exclusive search capability, Neighborhood Property Search. Neighborhood Property Search allows our website visitors to search within individual neighborhoods in the westside communities of Los Angeles, rather than having to sift through search results for the entire community. For example, a visitor can search for single family residences in the Riviera neighborhood of Pacific Palisades rather than searching for properties within the entire Pacific Palisades community.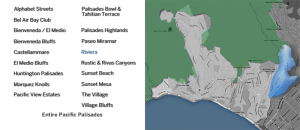 In addition to the power of being able to search for properties in the specific neighborhood of interest, there is a second benefit of the Neighborhood Property Search function. Website visitors who are unfamiliar with the location of certain neighborhoods on Los Angeles' westside can simply move their mouse over the Neighborhood Property Search maps and each individual neighborhood will light up on the map in blue while the neighborhood's name will light up in blue to the side of the map.
Neighborhood Property Search is up and operational for Marina del Rey, Venice, Santa Monica and Pacific Palisades. Neighborhood Property Search maps for Brentwood, Topanga and Malibu will be brought online in the coming weeks.
Mobile Property Search
Another new technology that was not available on our old website is Mobile Property Search. Now when a visitor comes to JimRea.com using their cell phone or tablet, there is a special search tool that is responsive to the size of the device. A smaller screen gets a smaller search tool designed to be compatible with the size of the small screen.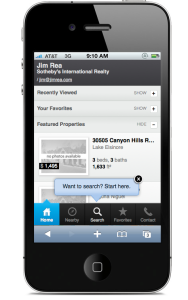 Other Convenient Property Searches
We built several other specialized searches into JimRea.com to give website visitors maximum flexibility and convenience. First is a search that covers the entire Westside area, covering all of the communities from Malibu to Marina del Rey, from Pacific Palisades to Brentwood. There are also searches for each of the individual communities on the Westside and searches for each Zip Code on the Westside. Finally, there is a general search for any property in the MLS ranging from San Diego to Santa Barbara and from Los Angeles to Palm Desert and beyond. It is one of the largest search areas in the country because our MLS is one of the largest MLS's in the country.
A New Home For Our Blog:
Westside Wine, Art & Homes
Search capabilities are important for visitors to JimRea.com and we tried very hard to provide our visitors with search tools that are creative, innovative and highly capable, but man does not live by search alone. My blog Westside Wine, Art & Homes is about the lifestyle of many of us who live in beautiful Southern California.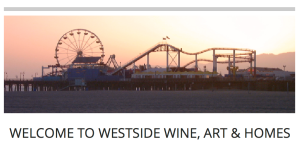 WWA&H used to be hosted on the Blogger.com/Blogspot website. Since this new website is built on the powerful WordPress platform, it was fairly easy to move all of the old posts over to the new webiste. Now all old traffic from the Blogger.com website is automatically forwarded to the new address and all new posts will be posted here. The new blog integrates seamlessly with the rest of the website and our visitors only have to go to one place to get all of the content that we publish.
New Image Galleries
Anyone who knows me knows that I am an avid photographer (currently shooting a Fuji XT1 for those who might be interested) who is constantly photographing the events that we attend around the country. Over the years I have been uploading most of those images into galleries (some public, some private) on my website. Building our new website presented the opportunity to upgrade our image galleries which provide distinct advantages. The greatest benefit is that the galleries are now perfectly integrated with the rest of the website having the same look and feel as the rest of the pages, which was definitely not the case with our old galleries. The new galleries also offer greater flexibility in integrating other content with each image gallery. Now complete stories can be built around each image gallery, rather than just presenting a grid of images. Finally, the new image galleries are fully responsive to the type of device being used to view the gallery. That means that when a visitor uses a cell phone or tablet to visit the gallery, the presentation will respond to the size of the display device and the images and buttons will be appropriately sized.
Unfortunately the galleries do have to go through a conversion process so it will take a little time to bring them back up on our new website. But we will continue the process until they are complete, while adding new galleries with new photographs as they are produced.
Hopefully visitors to our new website will greatly enjoy the powerful new search capabilities along with the new integrated "Westside Wine, Art & Homes" blog and image galleries. Let us know what you think about it!
TinyURL for this post is: http://tinyurl.com/jimrea-our-new-website
My pledge to you is to professionally handle all of your real estate needs whether it is searching for a new home or property, selling one that you already have or helping you address your real estate needs anywhere in the world. My goal is to make your real estate experience pleasant, productive, focused and hassle free.


I would love to discuss any real estate needs that you may have. Please give me a call at any time.
Jim Rea, Realtor
Sotheby's International Realty – Pacific Palisades
(424) 354-0790
Jim@JimRea.com