Breitstein Wine Dinner at the Culinary Institute of America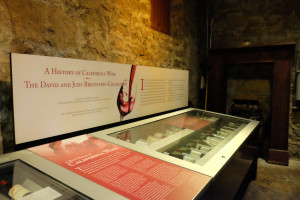 Our very luxurious Breitstein wine dinner at the Culinary Institute of America at Greystone in St. Helena took place last Saturday night.  The dinner was hosted by David and Judy Breitstein, Dr. Karen MacNeil from the CIA's Rudd Center for Professional Wine Studies and Archie McLaren, Director of the Central Coast Wine Classic. Also joining us was our special guest, Mike Martini, winemaker at the Louis M. Martini winery.
Long time southern California wine and spirits retailer David Breitstein (the Duke of Bourbon) and his wife Judy donated a collection of over 150 of the most important and influential wines in the history of California winemaking to the Culinary Institute of America at Greystone.  This incredible collection of wines makes up the the permanent exhibition "A History of California Wine: The David and Judy Breitstein Collection" on exhibit at the CIA in St. Helena. It is hard to imagine how expansive this collection is, but to help you do so, you can download the CIA's brochure for the exhibit here: A History of California Wine
The wine dinner was a charity dinner event from the 2014 Central Coast Wine Classic. and it featured some of the most historic wines ever made in California.  Paired with those incredible wines was a six course gourmet dinner prepared and served by the awesome staff at the CIA.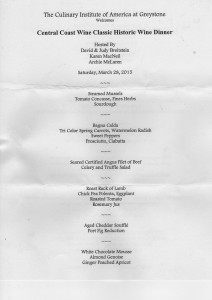 Click on the first picture to view the gallery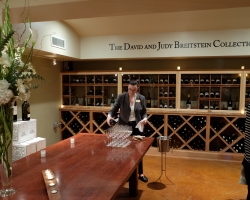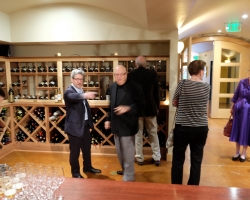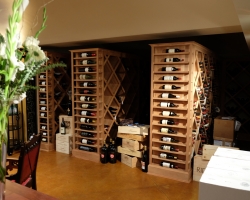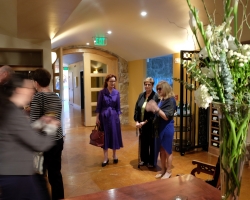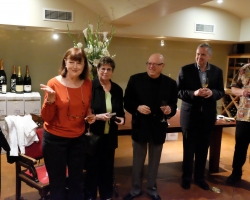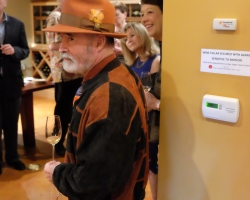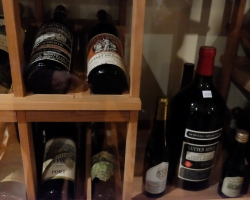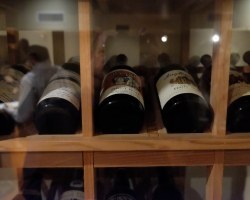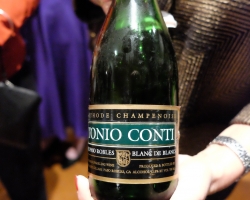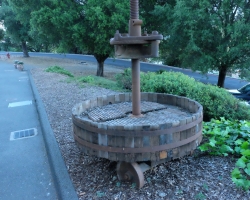 The Wines
The wines served at this dinner were something to behold.  Old wines, when properly made and stored evolve in character over the years as the fruit burns off and the acids hold up to create a taste that is beyond description.  To be able to enjoy such a wide range of these classic old wines in one setting is quite a remarkable and rare opportunity.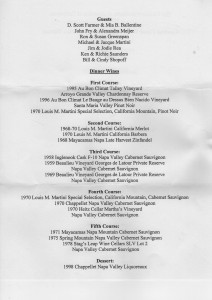 As you can see from perusing the list of wines above, they ranged in maturity from a 1958 Inglenook Cask F-10 Cabernet Sauvignon to a 1998 Chappellet Liquoreaux.  The wines included a 1968-1970 Louis M. Martini California Merlot, the first Merlot ever bottled in California.  The varietals represented at the dinner included an Arroyo Grande Reserve Chardonnay, Pinot Noirs from the famous Bien Nacido vineyard in Santa Maria and Napa's California Mountain.  Other varietals included a Napa Valley Barbera and a Late Harvest Zinfandel, again one of the first created in California and a sweet desert wine from Chappellet, the Liquoreaux made from Chenin Blanc grapes.
And then there were the Cabs.  We had Cabernet Sauvignon from Inglenook, Beaulieu Vineyard's Georges de Latour, Louis M. Martini, Chappellet, Heitz Cellar, Mayacamas, Spring Mountain and Stag's Leap Wine Cellers.  The vintage years ranged from 1958 to 1978 and they were all superb!
As we ate and tasted, we were treated to stories of the deep history of Napa Valley wine making by Mike Martini, Karen MacNeil, David Breitstein and Archie McLaren.  We learned how Louis M. Martini winery came into being.  We learned about the first attempts to create late harvest zinfandel and the history of the zinfandel grape (it came from Croatia by way of Italy) as well as the zinfandel name.  And we came away with many other memories of a lifetime.
Thank you to David and Judy for your generosity and to Archie for making it all happen!
Click on the first picture to view the gallery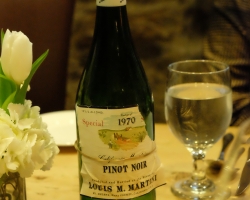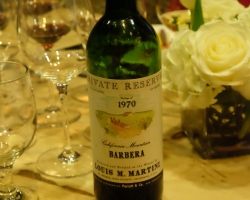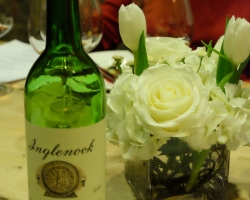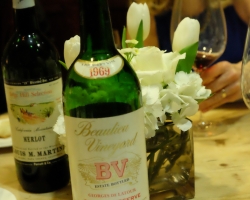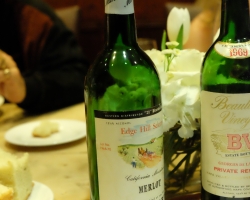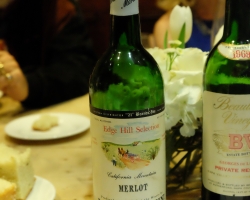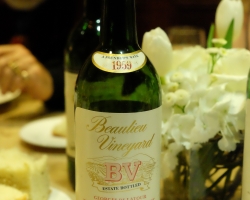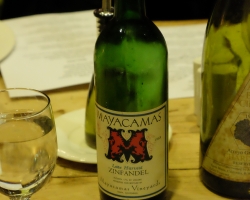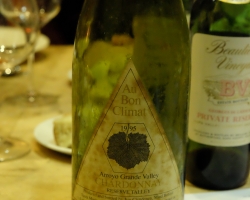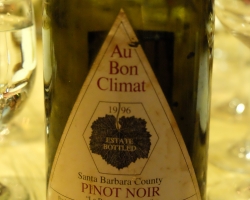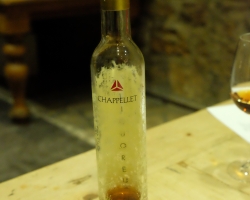 TinyURL for this post is: http://tinyurl.com/jimrea-cia-dinner-2015
My pledge to you is to professionally handle all of your real estate needs whether it is searching for a new home or property, selling one that you already have or helping you address your real estate needs anywhere in the world. My goal is to make your real estate experience pleasant, productive, focused and hassle free.


I would love to discuss any real estate needs that you may have. Please give me a call at any time.
Jim Rea, Realtor
Sotheby's International Realty – Pacific Palisades
(424) 354-0790