Redbird Wine Dinner
Last year, C-CAP (the non-profit Careers through Culinary Arts Program) held a charity dinner at the Vibiana special event center located in the former St. Vibiana's cathedral in downtown Los Angeles. Plans were underway to open a gourmet restaurant in the rectory of the facility and name it 'Redbird'. During the course of the evening, a gourmet dinner at Redbird for a party of 10 was auctioned off and a group of us were fortunate to be the winning bidders.
So the time came this April to collect on our winnings with an incredible gastronomic feast at the new "IT" eatery.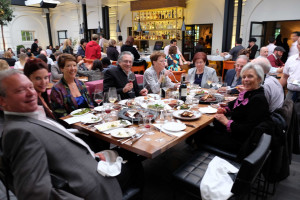 We entered the restaurant where the bar area features a modern, comfortable decor, complimented by a meticulous restorations of the vintage painted ceiling beams.
We were escorted to one of the two Chef's Tables positioned at the front of the restaurant. Being a party of 10 with several vintage bottles of wine and a whole lot of gourmet food served family style, the table got a little cramped for room at times, but we managed to get by.
All of the dinner guests are serious wine collectors, so everyone reached deep into their cellars to bring some righteous grape. Everything was drinking wonderfully well and given that several of the bottles were over 25 years old, there were many rare and special tastes to behold.
The lineup of wines included:
1987 Hitching Post Wines Pinot Noir – Benedict Canyon Vineyard
1988 Hitching Post Wines Pinot Noir – Sierra Madre Vineyard
Incanto Prosecco (Magnum)
2013 Col del Mondo "Kerrias" Pecorino
Benito Santoa Albarino
2005 Domaine des Croix Beune 1er Cru Les Vignes
2008 Schiavenze Broglio Riserva Barolo
1999 Casanuova delle Carbaie Brunello di Montalcino Riserva
1990 Chateau Rieussec Grand Dru Classé Sauternes (2 half bottles)
Owner/Chef Neal Fraser and his whole staff of servers, cooks and management came through with a dinner to behold. The dinner came out in four waves of courses, sixteen very distinctive dishes in all. Served family style, the food kept coming until we could eat no more. One of our guests leaned more to the vegetarian style of eating and the staff bent over backwards to prepare a custom feast to suit her tastes.
The stellar compliment of dishes included:
Shishitos
Potato Crusted Smoked Pork Shank
Avocado Salad
New Zealand Tai Snapper Crudo
Burrata Salad
Smoked Tofu
Day Boat Scallops
Rack of Red Wattle Pork
Porterhouse Steak
Ora King Salmon
Weiser Pee Wee Potatoes
Pommes Aligot
Wild Broccoli
Chocolate Caramel Bar
Creme Catalan
Strawberry Tart
After such a thoroughly successful dinner, there was no question in anyone's mind why Chef Neal Fraser and his new restaurant Redbird are at the top of the list for Los Angeles' discriminating gourmet diners. If you have yet to experience the great pleasure of this restaurant, make your reservations and go now.
Thank you Chef Fraser for a dinner experience that we will all remember for a lifetime.

Click on any photo below to see the full size images.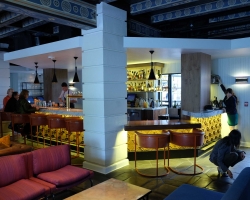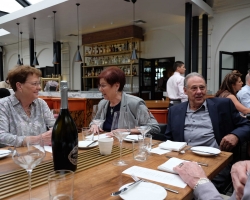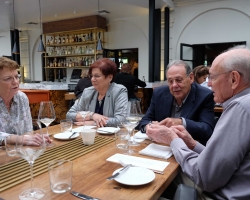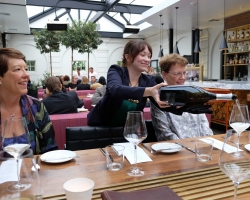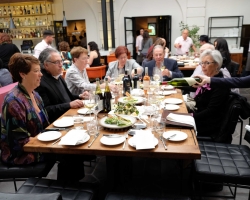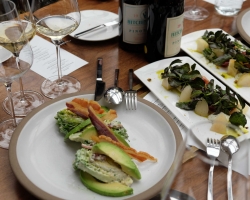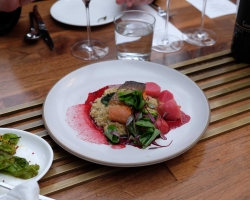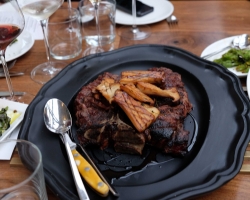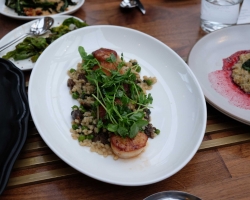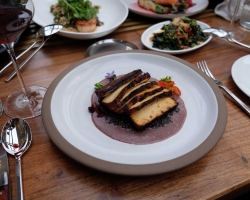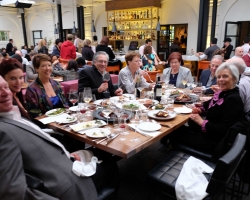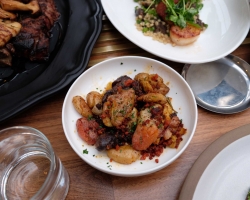 C-CAP – Careers in Culinary Arts Program
C-CAP Charity Dinner at Vibiana / Redbird
TinyURL for this post is: http://tinyurl.com/jimrea-redbird-dinner
My pledge to you is to professionally handle all of your real estate needs whether it is searching for a new home or property, selling one that you already have or helping you address your real estate needs anywhere in the world. My goal is to make your real estate experience pleasant, productive, focused and hassle free.


I would love to discuss any real estate needs that you may have. Please give me a call at any time.
Jim Rea, Realtor
Sotheby's International Realty – Pacific Palisades
(424) 354-0790